7 Skills that Magicians need other than magic!
Hi I'm Roger Lapin a professional Close up Magician, based in Hampshire, UK. The list below shows all the skills that I think a magician needs to have.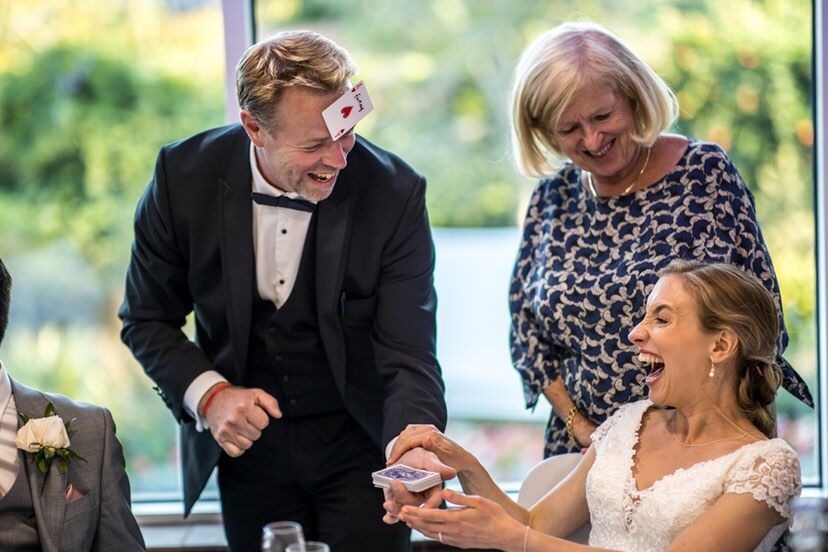 1. Performance skills
The first skill that you cannot get away with is obviously your magic ability. As a Magician you need to be able to perform a few tricks! The level of tricks that you perform will depend on your target audience. If you are just looking to impress your friends and family then a simple card trick can do it! If you are being paid a lot of money as a professional magician to entertain at a high end event then you are going to need to do something special.
So the first skill is to learn a few coin or card tricks and be able to perform them without thinking about it.
2. Confidence
The second and (in my opinion) skill that you must have is confidence. If you are going to impress anyone with your magic tricks you need to be able to present the trick to them in a way that shows you know what you are doing and have confidence in your skills.
In fact I have mentored a few younger magicians, teaching them magic and just the act of learning a few tricks and performing them to their friends, family and then the general public has boosted their confidence immensely!
So, once you have mastered the first two skills you need to become a Magician all of the rest of the skills or attributes listed below are additions to that which will make you a better magician and enable you to start charging money and and maybe doing it as your job!
3. Misdirection
Once you have mastered a few simple tricks and have the confidence to perform them in public, you need to learn a bit of misdirection this is the ability to temporarily make a person or group of people be distracted whilst you perform a move.
This is very subtle and can be as simple as asking a question.
If you ask someone a question, their eyes will naturally come up and look at you, giving you the opportunity to perform a move with your hands.
Another form of misdirection in magic is the point in a trick where there is a reveal or a high point. For example when showing a card has changed or a lemon has appeared under a cup, at this point your audiences focus will be on the card or the lemon and not on you.
A skilled magician can use these moments, making them feel totally natural to perform his tricks.
This is when I am performing magic, I hear so many times "but I never saw you change that!" or "when did that get under there?"
It's all done with misdirection and once you have mastered it, it's a very powerful skill for magicians.
4. Humour
Humour is not an essential skill for a magician and it's very much dependant on your audience.
If you are performing at a corporate dinner party or Christmas party where the requirement is high energy and entertainment, you need to be able to make people laugh.
If you are performing a magic act to music then humour is not the key element, Lance Burton is a perfect example of this. However it is all done with a cheeky smile!
It would not be fun to watch if he wasn't smiling. He is a very likeable person to watch.
5. Showmanship
Once you have mastered all the above skills you can take it to the next level with showmanship. This is the ability to appeal to an audience and to draw them in and make them want to see more.
Derren Brown is a great exponent of showmanship. He is very likeable, has a cheeky smile and when he performs you do not see anything coming!
6. Presentation
Presentation skills are also an essential element to being a great magician. How you speak, and also just as importantly how you look!
If you are performing magic to a paying audience, you need to be immaculate in your presentation, clean fingernails, sharp suit and good hair, all go a long way to presenting the image of a magician.
This rule is not 100% true as there are also some amazing magicians who just perform in a black t-shirt and blow people away.
It also depends if you are performing close up or on a stage as you might need to be seen.
Seen below, David Blaine totally freaks out Margot Robbie with his magic and he is not wearing a suit!
However, if I turned up to a wedding where everyone else was dressed up and I was just in a black t-shirt I might get a few looks. But who is to say this is right?
What is your perception of a Magician? Sharp suit or black t-shirt?
7. Organisation / Marketing
Another skill that is essential for a working magician is organisation and marketing.
Whilst we all love performing magic and amazing people at parties and weddings, the behind the scenes work is where it all happens and where we spend most of our time.
Planning future bookings, accounts, and the ongoing marketing to get new clients, website maintenance, seo, etc etc
Now whilst you can pay someone to do all this for you, for most magicians they do everything.
Conclusion
I hope this has given you an insight into what skills a Magician needs. These are just a few of the main things, another which is not really a skill is experience, which can only be gained with time, making mistakes and learning from others. The other is business skills, whilst not essential, very helpful if you want to make money doing magic. Another which is not a skill really is just practice!
Others are patience practice dedication coordination stamina flexibility strength balance agility speed reflexes accuracy precision focus concentration creativity imagination showmanship charisma and people skills! Phew!!
A lot of magician skills cannot be taught but are just developed over years of performing.
Check out my list of Famous Magicians – there are some videos so you can see some true masters in action.
Another tip is to just watch magic, either live or videos on Youtube and see how a really good magician presents themselves and how they interact with the audience.
Hopefully these tips will help you in some way, just pay attention to how you are presenting yourself whenever you perform magic,
I'm Roger Lapin and if you want to Hire a Magician in London and across the UK for weddings, parties and corporate events please get in touch.
Frequently asked questions
What education is needed to be a Magician?
You don't actually need any formal qualifications to become a Magician, just a love for the art of magic and you need to like people and performing for people.
What is a technique or skill often used by Magicians?
The most common technique used by Magicians is misdirection whilst performing a trick they ask you a question or distract you in a subtle way that just makes your eyes move for a second whilst the dirty work is done!
How do Magicians learn?
Most Magicians are self taught through a variety of ways, books, magic lectures, magic shops, magic clubs and magic conventions are all great ways to meet other magicians and learn new tricks and skills. Most magicians will have a mentor, someone who has started them on the road to magic and maybe taught them their first trick.
What education do Magicians have?
Whilst there is no formal education to become a magician, most magicians are very clever as they have to be skilled in sleight of hand, showmanship, audience control and so many other things and perform these all at the same time, whilst actually looking like they are doing nothing!
I know Magicians how have degrees and other Magicians who do not have a single qualification to their name.
There is no education requirement to becoming a magician, you just need to be able to perform and get on with people really!
How much do Magicians make?
This varies between each individual magician. Some part time magicians will be paid very little and perform for tips in restaurants, most full time magicians can make a very comfortable full time living from magic and the likes of David Copperfield make millions. It all depends on how much you want to work and the type of events and clients you are performing for.
How do Magicians learn Magic?
Most magicians start to learn magic as a child and were shown a trick by their uncle or grandad typically. (For me it was my grandad!)
They will be shown one trick usually with a coin or something and then go in search of the secret and once they discover it will practice and practice that trick.
They might then ask for a magic set for their birthday or Christmas which will contain more magic tricks and a simple book to explain them.
However, if you really want to learn magic you need to join a magic club, this is the point where I really started to learn my craft. Most Magic Clubs have a junior section where you can mix with other young magicians and be taught by older and wiser magicians. This is a really great way to learn magic.
Other magicians are self taught using some of the following
Magic Books
DVD's
YouTube / Tick Tock
Online Magic tutorials
Magic Conventions
Where I learn a lot of my new magic is at the Blackpool Magicians Convention which is the biggest magic convention in the world attracting over 4000 Magicians from around the world every year to Blackpool in the UK to meet other magicians, learn from talks and meet magic dealers from around the world selling all their new tricks and ideas!
For most though to learn magic you just need to be doing it and if you are mixing with other like minded individuals you will pick up so much knowledge and then when you really learn is when you go out and perform in public.
Magicians need a variety of skills in order to be successful in their craft. Some of the most important skills for magicians include:
How to be a good Magician?
There are only 2 elements to being a good Magician.
Magic Ability
People Skills
These are the two skills you need to master to be a good Magician.
Firstly you are going to need magic ability, you have to be able to perform a few tricks REALLY WELL!
Once you can do that you need to be able to perform those tricks to people.
If you can perform a great card trick but when you perform it in public you get it wrong you are not going to be a good magician, also if you are great with people but cannot perform a card trick you are not going to be a good magician.
There are exceptions to this rule, there are some magicians who do not speak and just perform amazing magic and are a wonder to watch.
However every magician needs to be able to perform magic, the people skills are secondary but put the two together and you can become a great magician!
Where do Magicians learn their tricks?
Most young magicians learn their tricks at home in their bedroom practising card tricks over and over until they can perform something to their family.
As you get older you learn your tricks from other magicians, magic clubs, going to conventions and a lot now online.
How to make money as a Magician
To be able to make money as a Magician you simply have to do one thing
Persuade somebody to pay you to perform your magic!
The key part of this is how much money they pay you. If you are just starting out and a friend asks you to perform magic at their party and you say it's £1000 they are going to say no!
If you are just learning magic and can perform a few tricks and you say £50 they might say yes.
You then just need to keep getting better and better, hone your craft and your presentation, get a nice suit and you can start charging more.
Companies will pay more money if you can handle a large corporate event, if you can supply other magicians for that event and if you can perform a stage show you can charge a lot more!
Promotion is the key to making money as a Magician, a great website, with some videos and photos from recent events, celebrity testimonials are gold dust and just perform magic wherever you are as you just don't know who is watching!
Creativity: Magicians must be able to come up with new and innovative tricks and routines that will engage and captivate their audiences.
Persistence: Performing magic can be challenging and requires a lot of practice and dedication. Magicians must be willing to put in the time and effort to perfect their craft.
Communication: Magicians must be able to effectively communicate with their audiences, both through their words and their body language. This includes the ability to speak clearly and confidently and to engage with audience members in a friendly and approachable way.
Dexterity: Many magic tricks require precise movements and manual dexterity. Magicians must have good hand-eye coordination and be able to perform intricate movements with ease.
Showmanship: Magicians must be able to entertain and engage their audiences. This includes the ability to create a sense of suspense and drama, and to use their performance skills to hold the audience's attention.